Our Providers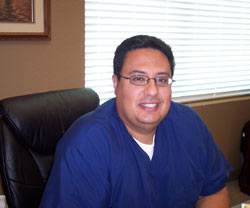 Dr. Tony Reyes, D.D.S., of Eldorado Dental, specializes in family dental care. After finishing undergraduate studies at Baylor, he completed his dental degree at the University of Iowa in Iowa City, Iowa. Dr. Reyes is married to his wife, Kim, and they have two children: Ashlyn and Nicholas. He and his family are originally from Texas. He came back to Texas with his family to provide state-of-the-art dental services, and a comfortable and friendly environment for the whole family – from the kids through the grandparents.
Eldorado Dental caters to each patient's individual needs and makes a concerted effort to positively impact the patient's experience by designing a serene, comfortable environment. Our patients' comfort is one of our primary concerns. To help us accomplish this, we have a caring team that can help with your every need, and TVs in every treatment room to help our patients relax and be comfortable. We want the facility to have a relaxed atmosphere, not a clinical feeling.
We strive to treat our patients as people with individual needs, both physical and emotional, and we work to exceed their expectations. We believe that each person who walks through our door is entitled to the best care we can possibly offer.
Eldorado Dental is ready to welcome you to our practice and to a life of great dental health.
Se Habla Español!
We accept most insurances, and file them for your convenience.